CHF

9.50
Give your lips the hydration and protection they need with an all-natural formula.
Our lips go through a lot; they are stressed by changing weather and other environmental influences during the cold season and by what we eat and drink every day. So they need protection. Soeder's  Natural Lip Balm nourishes stressed lips with coconut oil, almond oil, beeswax, jojoba oil, honey from Switzerland and natural vitamin E.
Vegan formula, free of preservatives, and crafted with coconut fat, almond oil, beeswax, jojoba oil, honey from the Zurich Oberland, and natural vitamin E. Packaged in a sleek, aluminium container, making it perfect for on-the-go use.
It is organic, vegan and biodegradable. The ingredients used are 100% derived from naturally grown sources and all oils are organically grown. It was made in Schwerzenbach, Switzerland, with only the finest natural ingredients.
Soeder's Natural Lip Balm is the perfect addition to your daily skincare routine. With its all-natural ingredients, intense hydration, and eco-friendly packaging, you can feel confident that you are using a product that is both good for your skin and the environment.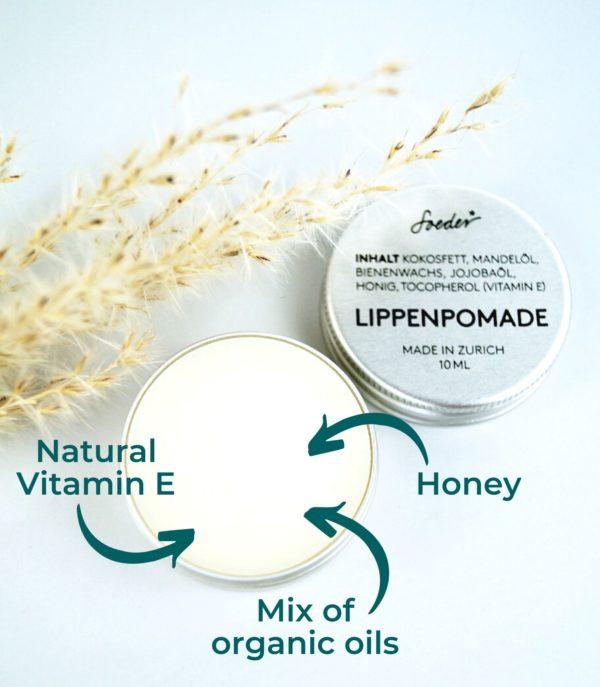 CHF

18.00
With antibacterial organic Coconut oil and caries-inhibiting Xylitol, this mouthwash reaches where your toothbrush can't go. Its mixture of 4 oils – Sage, Thyme, Eucalyptus and Lemon oil create a healthy bacterial balance in your mouth.
For the whole family, even for sensitive teeth and bleeding gums.
Made in Germany, packed in a sustainable glass bottle & certified BDIH – Cosmos Natural Cosmetics (only vegan and harmless ingredients. None: PEGs, parabens, SLS, fluorine / fluoride and without microplastics).